Accounting Bookkeeping Financial work from home jobs
Welcome to our accounting, bookkeeping and financial jobs page.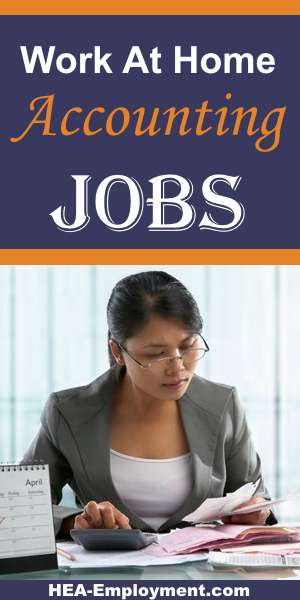 Accountants prepare and examine financial records. They ensure that financial records are accurate and that taxes are paid properly and on time. Accountants assess financial operations and work to help ensure that organizations run efficiently. Many accountants and auditors specialize in specific industries. Accountants must be detail oriented and possess analytical, communication, math and organizational skills. Most accountants need at least a bachelor's degree in accounting or a related field. Certification within a specific field of accounting improves job prospects. For example, many accountants become Certified Public Accountants (CPAs). To perform this job at home, you will need accounting software (Quicken, Peachtree), all-in-one-printer and reliable Internet and E-Mail access. The average annual salary for an accountant is $63,000. Apply for a work at home job or start a
home business
with one of our business packages that includes everything you need to get started.